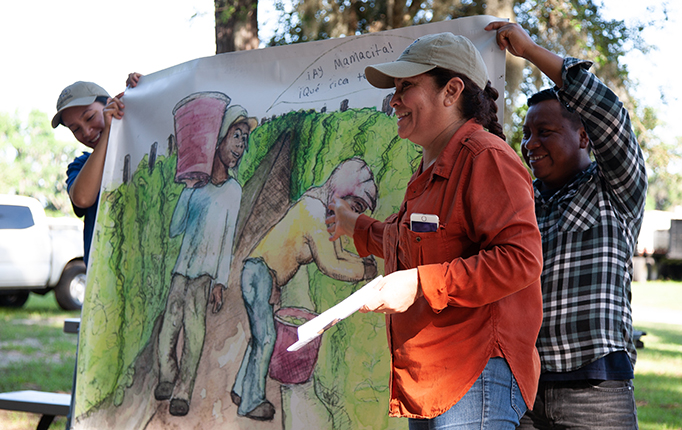 Members of the Coalition of Immokalee Workers lead an anti-sexual harassment training. Photo by Vera L. Chang.
Environmental Science, Policy, and Management doctoral student Vera L. Chang  received a Solutions Journalism Network Fellowship to support her investigative reporting on effective responses to social problems. Chang was one of 13 recipients to be awarded the grant that focused on issues of sexual violence.
"While a wide range of industries responded to the #MeToo movement by setting new standards and creating new protocols to prevent sexual harassment, that hasn't been the case in agriculture," Chang wrote in Civil Eats,  a daily news source for critical thought on the American food system. Her article documents how a worker-led organization has effectively eliminated sexual abuse on large farms. Her long-form story was republished in Food & Wine , and it was cited by Politico  and the Food and Environment Reporting Network.
Connected with her journalistic writing and photojournalism, Chang's research centers on human rights, social transformation, and shifts in power in U.S. agri-food systems. Using visual and ethnographic methods, she investigates how operative norms can change from impunity to accountability in order to overcome normalized exploitation and foster justice.
Chang is a member of the Critical Studies in Food, Health, and Environment lab that's led by associate professor Seth Holmes. She's also a National Science Foundation fellow and Berkeley Food Institute researcher.
READ MORE: